Browse our full range of branded carousel vending machines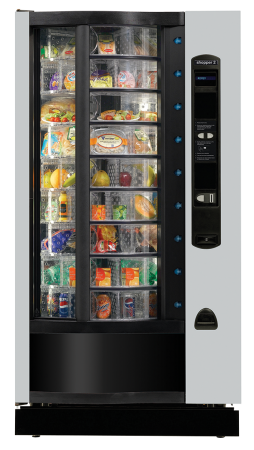 Shopper 2
The Shopper 2 has been designed to meet the varying needs of a 24 hour refreshment service. Products are stocked into individual compartments on 9 rotating shelves. Trays can be easily configured to hold a selections of plated main meals to small snack items, maximising the available space and offering customers a wide choice of products.
The Shopper 2 also features solutions to help reduce your carbon footprint. The latest energy saving software reduces energy consumption. In energy saving mode, the Shopper 2 uses 13% less energy when in Idle mode. Vend door heaters can also be switched off when ambient humidity and temperature conditions permit.
Festival
Festival is the smart solution for locations needing to offer catering services 24/7, not just a vending machine but a true automatic canteen. The extreme flexibility of configuration allows the user to choose between snacks, drinks, fresh dishes, fruit and yoghurt. The enhanced electronics of Festival offers an advanced machine and product management. Festival achieves the energy rating of A+ (EVA EMP 3.0 protocol) thanks to the excellent performances in energy saving.